Word Song Audio Book
Stories:
Baby Moses
Esau and Jacob
The trouble with twins
Children obey your parents
The example
Joseph: God put a dream in my heart
Josiah: A teenager finds a treasure
Five loaves and two fish
Choruses:
Get on board little children
The B-I-B-L-E
Peter, James and John in a sailboat
Many Colours
Swing low sweet chariot
God is so good
Climb sunshine mountain
Children obey your parents
Loaves and fishes song
This is love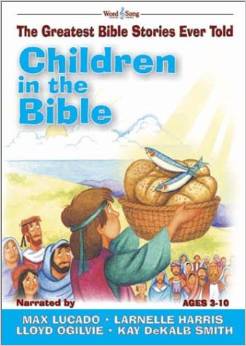 Series: The Greatest Bible Stories Ever Told: These books come with a CD which reads the text of the book, followed by ten children's choruses to sing along with. The words of the choruses are not in the books, but most are well known. Each book has about seven Bible stories following a particular theme.
Author: Stephen Elkins
Age: 3 – 10
Pictures: Colour, on every page.
ISBN: 978-0805424744
Hardback
Pages: 30