This is an alphabetic rhyme book with a dinosaur theme. The text takes us through creation, and Noah and the flood. It is very clear on the truth of the Bible.
There is a colouring section for the children to do. Also included in this book are pages of notes for parents and teachers, and suggested student exercises.
There is a 'commitment form' at the end, as one of the student exercises, which I do not agree with at all.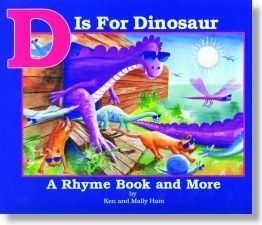 Author: Ken and Mally Ham
Age: 4 – 7
Pictures: Every second page is either a full colour picture or a picture to be coloured in.
ISBN: 089051193-4
Hardback
Pages: 123