Word Song Audio Book
Stories:
Daniel and the Lions' Den
Every Day is Pray Day
Jacob's Stairway to Heaven
The Psalm of the Shepherd King David
The Second Law
Isaiah Sees the Future
The Promises of Jesus
Choruses:
Jacob's Ladder
Happy all the time
The Solid Rock
I Will
I've got the joy, joy, joy, joy
Head, shoulders, knees and toes
Trust and obey
The Lord is my Shepherd
Fairest Lord Jesus
Jesus loves me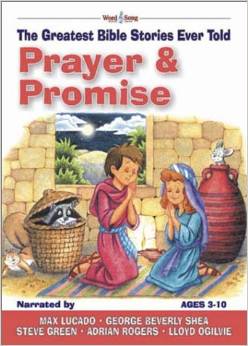 Series: The Greatest Bible Stories Ever Told: These books come with a CD which reads the text of the book, followed by ten children's choruses to sing along with. The words of the choruses are not in the books, but most are well known. Each book has about seven Bible stories following a particular theme.
Author: Stephen Elkins
Age: 3 – 10
Pictures: Colour, on every page.
ISBN:  978-0805424720
Hardback
Pages: 30