Word Song Audio Book
Stories:
Joseph: From Prison to a Palace
Abraham Obeyed
Elijah and the Chariot of Fire
Be Holy
The Mustard Seed
The Fruit of the Spirit
The Romans Road
The Hall of Faith
Choruses:
Father Abraham
Angels Watching Over Me
I'm in the Lord's Army
Elijah Went up in a Chariot
Be Holy
Mustard Seed Faith
The Fruit of the Spirit Song
I am a C-H-R-I-S-T-I-A-N
Rock-A-My Soul
I Feel Good Today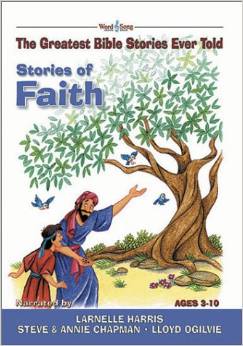 Series: The Greatest Bible Stories Ever Told: These books come with a CD which reads the text of the book, followed by ten children's choruses to sing along with. The words of the choruses are not in the books, but most are well known. Each book has about seven Bible stories following a particular theme.
Author: Stephen Elkins
Age: 3 – 10
Pictures: Colour, on every page.
ISBN: 978-0805424706
Hardback
Pages: 30