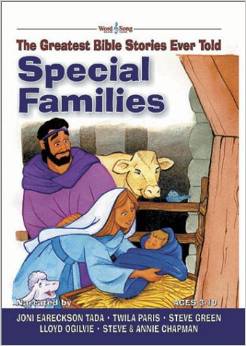 Series:  The Greatest Bible Stories Ever Told: These books come with a CD which reads the text of the book, followed by ten children's choruses to sing along with. The words of the choruses are not in the books, but most are well known. Each book has about seven Bible stories following a particular theme.
Number: 2
Author: Stephen Elkins
Illustrator: Tim O'Connor
Age: 3 – 10
Stories:
Adam and Eve
Abraham and Sarah's Surprise
A Raisin Cake
The Birth of Jesus
John is Born
Jesus is Born
The Baptism of Jesus
I've Got Hospitality
Choruses:
I will sing of the mercies of the Lord
If your saved and you know it
The reason He made me
You shall call His name Jesus
Jesus want's me for a sunbeam
Praise ye the Lord Hallelujah
Father we thank Thee
Jesus loves even me
Here is the church, here is the steeple
Be careful little eyes
Pictures: Colour, on every page.
Pages: 30
Hardback
ISBN: 978-0805424676
See also: Stories of Faith